Prosecution and prevention of organized financial crime with virtual currencies (BITCRIME)
The Project
BITCRIME is a bilateral German-Austrian research project concerning the prevention and prosecution of organized financial crime committed with virtual currencies. The project is funded by the German Federal Ministry of Education and Research (BMBF) and the Austrian Federal Ministry for Transport, Innovation and Technology (BMVIT). The project duration is 28 months (October 2014 – January 2017) and the total project volume is 2.4 million Euros.
Challenges
The use of virtual currencies is steadily growing. These currencies are independent of central banks, commercial banks, or nations and are traded directly between users, thereby evading traditional methods of government intervention. This makes virtual currencies attractive to actors in organized financial crime. However, until now effective prevention and prosecution strategies are lacking.
Goals and Perspectives
The joint project will assess the subject and its threat profile in order to develop innovative and workable approaches toward regulating virtual currencies in a way that is compatible with their fundamental nature. The project will strive to develop actionable, internationally applicable and interoperable solutions for Europe and beyond. Key requirements to be met are economic efficiency for all stakeholders and a judicious balance between economic potential, freedom, administrative manageability, and criminal prosecution. The project focuses on technical and organizational approaches that enable effective criminal investigation while avoiding both a blanket ban of virtual currencies and potential misuse through mass surveillance. The bilateral cooperation promotes this holistic and interdisciplinary approach to the growing challenges posed by virtual currencies.
Flyer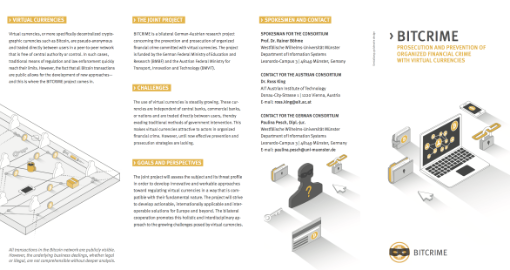 Spokesman for the Consortium
Prof. Dr. Rainer Böhme
University of Münster, Department of Information Systems
Leonardo-Campus 3, 48149 Münster, Germany
Contact
Dr. Paulina Jo Pesch
University of Münster, Department of Information Systems
Leonardo-Campus 3, 48149 Münster, Germany
E-mail: paulina.pesch@uni-muenster.de